Facility Information
Facilities available at Red Rock State Park.
Sorry, pets are not allowed at this conservation park. 
Visitor Center/Park Store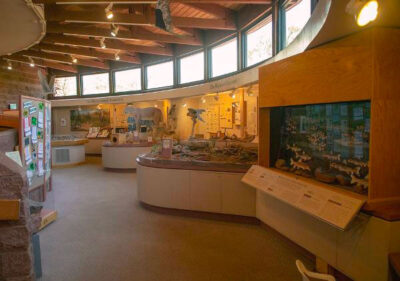 Red Rock's Miller Visitor Center includes exhibits and a park store. Inquire about the Junior Ranger program available for children ages 4–12. Movies in the Theater play on a continuous loop. These movies focus on the Sedona area and are titled "The natural wonders of Sedona" and "Oak Creek Loved to Death." These films include tons of area information including Sedona history and wildlife and take visitors on a flying tour of the red rocks providing them with some phenomenal aerial scenes. Movie presentations are occasionally preempted by special events so check with park staff upon your arrival.
A gift shop is located inside the Visitor Center and offers a wide selection of souvenirs, including t-shirts, magnets, walking sticks, books, maps, and postcards that highlight the Sedona area. Beverages and snacks are also for sale.
Exhibits
There are a variety of educational opportunities found in the Miller Visitor Center. Hands-on exhibits are based on the theme of localized biotic communities and really help visitors understand the area before they experience it. The interpretive panels in the exhibit area bring the variety of habitats found within the park to life right before your eyes. You will also find information on the early human inhabitants of the area as well as roving displays showing a wide selection of the park's wildlife.
Group: Day Use Areas
All group areas are available for public use on a first-come, first-served basis, when not currently reserved. Reservations may be made up to six months in advance, except for wedding reservations, which can be made up to 12 months in advance. All reservations require a non-refundable $25.00 reservation fee. Please email Park Manager Heidi Erickson to reserve a day-use area. Payment must be received at least 30 days in advance to secure the reservation and fees are non-refundable. Vehicle entrance fees still apply.
Twin Cypress Ramada
Large covered ramada, which holds 13 picnic tables that can be arranged to suit your needs. Electrical outlets, water, and barbecue grills (charcoal only) are available for use. Bathrooms are located nearby.
Maximum Group Size: 75 with existing tables and up to 250 with additional tables/chairs (user-provided).
Facility Use Fee: $100; plus a non-refundable $25.00 reservation fee.
Habicamp Ramadas
Two ramadas located near the Twin Cypress area hold seven picnic tables that can be arranged to suit your needs. Water available for use, bathrooms located nearby.
Maximum Group Size: 50
Facility Use Fee: $100; plus a non-refundable $25.00 reservation fee.
Visitor Center Ramadas
Two ramadas located near the Visitor Center hold six picnic tables that can be arranged to suit your needs. Electrical outlets are available for use. Visitor Center bathrooms are nearby.
Maximum Group Size: 50
Ramada is non-reservable. First-come, first-served.
Day Use Picnic Areas/Shelters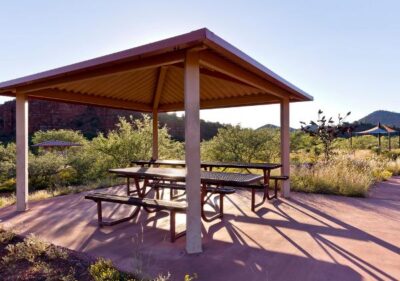 Picnic tables and shelters are located in all of our group day-use areas and can be reserved by contacting the park. If not reserved these areas are open to the public on a first-come, first-serve basis. Several uncovered picnic tables and barbecues are located sporadically throughout the open regions of the Twin Cypress area and are available for use even when the ramada areas are reserved.
Restrooms
This park has modern, accessible restrooms located at the Visitor Center and the Twin Cypress group use area.
Park Hours of Operation
Monday – Thursday: All year  & Friday – Sunday: Labor Day through 1st weekend of May
8:00 a.m. – 5:00 p.m.
Last entry at 4:30 p.m.
Visitor Center
9:00 a.m. – 4:30 p.m.
Holiday Hours
Thanksgiving: 8:00 a.m. to 2:00 p.m.
Christmas Eve: 8:00 a.m. to 2:00 p.m.
Christmas: Closed
---
Extended Summer Hours of Operation 
Friday – Sunday, June through the Sunday before Labor Day
8:00 a.m. – 6:30 p.m.
Last entry 6:00 p.m.
Visitor Center
9:00 a.m. – 6:00 p.m.
---
Park Entrance Fee
Adult (14+): $7.00
Youth (7–13): $4.00
Child (0–6): FREE
Activities and Experiences
Hiking
Some of Sedona's most beautiful hiking trails are located right here at Red Rock State Park! Enjoy a variety of scenery from the high juniper desert, to the Oak Creek riparian zone. Every trail comes complete with gorgeous rust-colored views of red rock escarpments like Cathedral Rock and the Seven Warriors. A variety of wildlife and birds can be encountered during your hike here as well! Mule deer, javelina, coyotes, skunks, and numerous other park inhabitants may show up and make your experience unforgettable. During the winter months, your hike will be filled with even more color and song than it is during the rest of the year. Tons of migratory birds winter here at the park for your viewing pleasure. Learn more about the parks' hiking trails and maps.
Events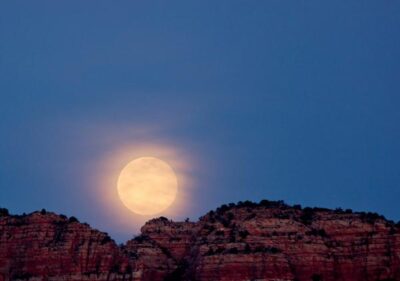 Diverse events can be experienced at the park throughout the year and are designed to showcase the unique and beautiful Sedona area in an educational and entertaining fashion. Full Moon Hikes and Bird walks are maintained throughout the year and are among the more popular events at the park. These guided experiences give participants a first-hand look at the park from experienced rangers and volunteers that are very familiar with the areas of interest. Learn awesome things about this diverse area in one of Arizona's most beautiful places. Learn more about Red Rock State Park activities.
Red Rock Rules
Stay on marked roads & trails.
No pets allowed.
Charcoal fires in grills only.
Wood gathering prohibited.
No swimming or wading.
No fireworks.
Do not remove vegetation, wildlife, rocks, or artifacts.
Keep all sound devices to an individual hearing level.
Be sure to take out the trash you bring into the park.
Visitors must stay on designated trails.
No rock climbing.
Frequently Asked Questions (FAQ) about Red Rock State Park
Q: Why are the rocks red?
A: Because they contain a bit of iron … they are rusting! Learn more about the geology of Sedona.
Q: What is the house up on the hill?
A: It is the House of Apache Fires, constructed in 1947 by Jack and Helen Frye.
Q: Why don't you allow dogs and other pets in the park?
A: Red Rock State Park is a Center for Environmental Education and as a nature preserve it is our mission to protect the environment and the wildlife that live here. Pets may leave droppings or intrude on others' enjoyment of the park.
Q: What should we do if we see a snake?
A: Stop and observe them. They will move slowly from the trail giving you ample time to snap a picture.
Q: Which is the best hiking trail in your park?
A: All our trails are special and beautiful and range from easy flat walks along Oak Creek to higher trails that take you up to our scenic vistas.
Q: Will we see a cougar on our hike?
A: Cougars are very secretive and elusive. Their main prey is mule deer and they tend to hide from humans. If you are lucky, you might see their tracks in the mud under Kingfisher Bridge.